via AIDS Foundation of Chicago, by Gregory Trotter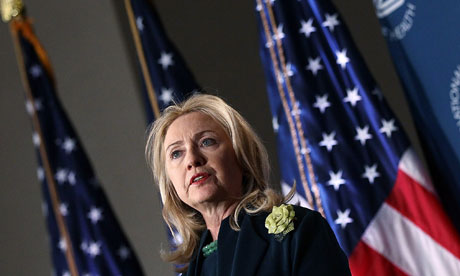 The "big news" of Secretary of State Hillary Clinton's remarks today at the National Institutes of Health, in Bethesda, Md., might be that she appointed Ellen DeGeneres to be the Special Envoy for Global AIDS Awareness.
We'll get to that in a minute. What's perhaps even more interesting, though, is what was not said in Clinton's remarks, titled "Creating an AIDS-free Generation." Clinton focused on three modes of intervention in her speech: prevention of mother-to-child transmission, voluntary medical male circumcision and treatment as prevention.There was no mention of pre-exposure prophylaxis (PrEP) or rectal microbicides — two promising new areas of HIV prevention.
"Overall, it was a good speech but it was missing some things we're interested in, like PrEP and rectal microbicides," said Jim Pickett, director of prevention advocacy and gay men's health for the AIDS Foundation of Chicago,who also serves as chair of the International Rectal Microbicide Advocates.
The omissions were disappointing but not surprising, Pickett said. Clinton's audience was a global one, he pointed out, so it made sense that she would shy away from PrEP, which has been shown in multiple trials to be effective for gay/bi men but less successful for heterosexual couples.